Daffodil International University holds
Orientation for Fresher of Pharmacy Department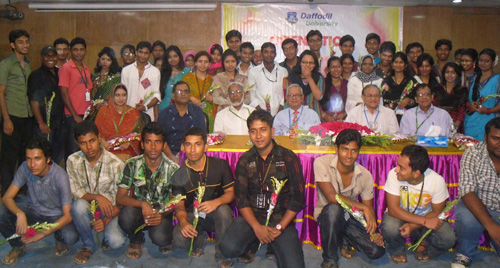 The orientation program for the newly enrolled undergraduate students of the department of Pharmacy of Daffodil International University was held on April 19, 2012 at DIU Auditorium. Emeritus Professor and Founder Vice Chancellor of Daffodil International University Dr. Aminul Islam was present on the occasion as the chief guest while Professor Dr. M. Lutfar Rahman, Vice Chancellor was present as the special guest.
Addressing as the chief guest Founder Vice Chancellor and Emeritus Professor Dr. Aminul Islam, welcomed the students and said that three major things-discipline, honesty and quality can make a life success. To be a complete citizen of the country he advised the students to achieve those virtues.
Vice Chancellor Prof. Dr. M. Lutfar Rahaman said, Commitment, Transparency and Quality of Education made Daffodil International University renowned. DIU provides its students best available resources to pursue their studies and hone their skills. Considering the present situation, DIU is going to offer laptops for students to use on personal basis and thus help them to face the challenges of a globalize world, he added.
Presided over by Zakia Sultana Sathi, Associate Professor and Head of the department the function was also addressed among others by Prof. Dr. S.M. Mahabub-ul Haque Majumder, Dean, Daculty of Science and Information Technology, Prof. Dr. Golam Mowla Choudhury, Proctor and Controller of Examination, Professor Dr. Abu Shara Shamsur Rouf, Adviser,Pharmacy Department. The program was conducted by Taposhy Rabeya – a student of Pharmacy department. Later the member of DIU Cultural club performed a cultural presentation for the fresher.