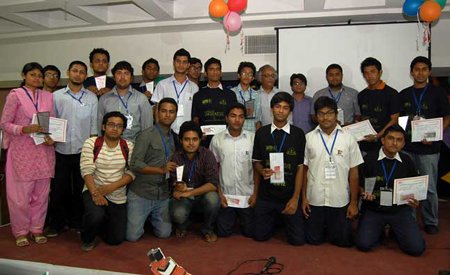 Tasnia Tazrin (at the left standing) with the winners of
"National Innovative and Inter- College Olympiad-2012"
Tasnia Tazrin became Champion in

'General Knowledge' Quiz Competition
in "National Innovative and Inter- College Olympiad-2012"
Tasnia Tazrin a student of ETE Department became champion in 'General Knowledge' Quiz Competition in "National Innovative and Inter- College Olympiad-2012" at IUB in the Bashunshara residential area on March 15, 2012.
The program was jointly organised by IUB and Banglanews24.com, a new-generation multimedia news portal of East West Media Group Limited.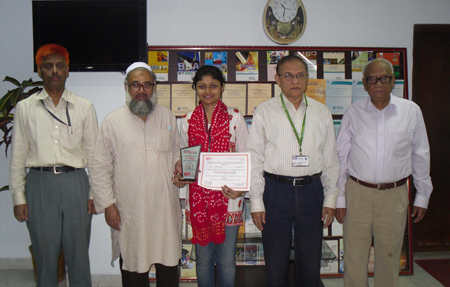 Tasnia Tazrin met with Vice Chancellor Prof. Dr. M. Lutfar Rahman
at his office on sunday. Dr. Prof. Rafiqul Islam, Dean, FBE,
Dr. Md. Fokkhray Hossain, Registrar and Prof. Dr. Md. Fayzur Rahman,
Head ETE were also present at that time.
About 300 students from different educational institutions across the capital took part in the competition. It may be mentioned here that she is the only female student who won the prize in the competition.