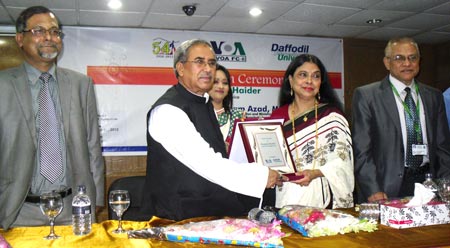 Daffodil International University accorded

Warm Reception to Roquia Haider
Information Minister Abul Kalam Azad, MP urged the journalist to be liable to the people of the country, not to a individual party while addressing as the chief guest in the reception ceremony accorded to Roquia Haider, chief of VOA Bangla Service.
Department of Journalism and Mass Communication of Daffodil International University and The VOA Fan Clubs in Bangladesh jointly organized a the Reception Program in Honr of Roquia Haider, Chief of VOA Bangla Service at DIU Auditorium today ( March 01, 2012) .
He said, present government believes in free information flow, that's why after taking the power government passed the bill of Information Act. Now Information Commission is also working to make people aware about their right to information. He urged the journalists to criticize positively and based on realism.
Addressing among the students he advised the students to practice hard working besides education to achieve desired success in life. He urged the students to keep pace with the frequent changes and development of modern technologies and keep themselves competent in the global job market and simultaneously uphold the image and build reputation of the country.
Presided over by Prof. Dr. M. Lutfar Rahman, Vice Chancellor, Daffodil International University the function was also addressed by Mr. A. K. M. Shamim Chowdhury, Director Genral, Bangladesh Betar, Mr. Motiur Rahman, Editor, the Manabzamin, Prof. Dr. M. Golam Rahman, Dean, Faculty of Humanities and Social Science. Mr. Zahurul Alam, Coordinator, VOA Fan Clubs in Bangladesh, Mr. Muhammed Rashedul Hasan, Head, Dept. of JMC, DIU, Ms. Nasrin Huda Bithi, President, Global International VOA Fan Club.
Prof. Dr. M. Lutfar Rahman, Vice Chancellor, Daffodil International University said, Ms. Roquia Haider has come to this position after facing long hurdle in her earlier life which can be an example for the students. He welcomed and praised the presence of country's renowned journalists at Daffodil International University. He welcomed Roquia Haider at the university and invited to visit DIU and inspire our students.
Roquia Haider in her address expressed her gratitude to the authority Daffodil International University to give her such an honor. Referring to the developed countries where the teenagers are termed as Global Youth Bubble, she urged the students to be more industrious.