Saraswati Puja Observed
at Daffodil International University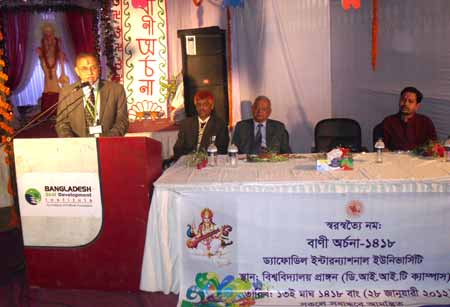 Prof. Dr. M. Lutfar Rahman, Vice Chancellor, Daffodil International University
addressing on the occasion as Chief Guest
Saraswati Puja is celebrated today at Daffodil International University with traditional gaiety and religious fervour. Prof. Dr. M. Lutfar Rahman, Vice Chancellor, Daffodil International University was present on the occasion as Chief Guest while Founder Vice Chancellor and Emeritus Professor Dr. Aminul Islam was present as the special guest. Presided over by Mr. Kamanashis Biswas,Assistant Professor, Department of CSE the function was also addressed by Registrar Dr. Md. Fokhray Hossain and Bimal Chandra Das, Senior Lecturer, Textile Engineering Department. Later a cultural program was arranged by the students.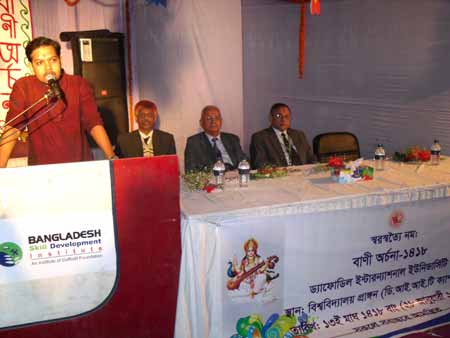 Mr. Kamanashis Biswas,Assistant Professor, Department of CSE
delivering his presidential address at the ceremony
It may be mentioned here that Saraswati Puja is performed on the vasant Panchami day every year mostly in educational institutions, where the Hindu students seek the blessings of Goddess Saraswati.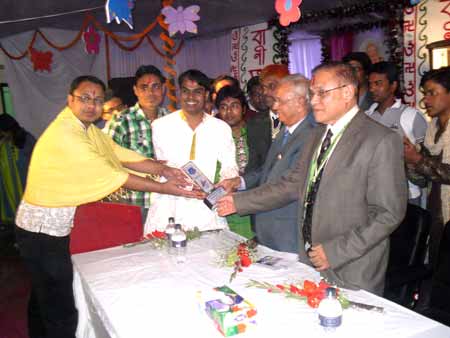 Members of the Puja Observance Committee
handing over a crest to University Authority
mythological consort of Lord Brahma, Saraswati is the personification of knowledge – arts, science and crafts. She represents power, creativity and inspiration and presents herself when the weather is pleasant and nature is in its full grandeur. It is a season of inspiration and passion.