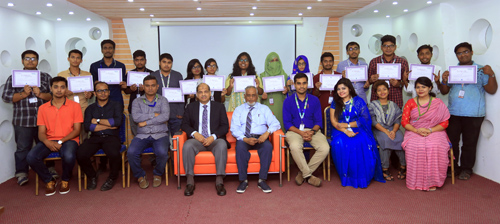 Professor Dr. Professor Dr. Yousuf Mahbubul Islam Vice Chancellor of DIU along with the winners of Book Reading Competition-2018 held today at Daffodil International University.
Aiming to develop reading habits among students Daffodil International University (DIU) organized Book Reading Competition-2018 today on 29 March 2018 at Banquet Hall of Daffodil International University. Professor Dr. Yousuf Mahbubul Islam, Vice Chancellor of DIU distributed prize and certificate among top five achievers as chief guest on the program while Professor A M M Hamidur Rahman, Dean, Faculty of Humanities and Social Science was present as special guest. Dr. Md. Milon Khan, Librarian of DIU and Mr. Md. Rakibul Hasan Khan, Assistant Professor & Head In-Charge were also present on the program.
This Book Reading Competition was held among the student of different department of Science and Information Technology Faculty. Top five students were selected for competing the next round. Prize awardees top five students are Fayez Ahmed, student of CSE, Syeda Lamia Forhad, student of CSE, Abul Hasnat Sohag, student of CIS, Saima Khan, student of Software Engineering and Abu Syeed Md. Iqbal Mazumdar, student of Software Engineering Department.
Addressing as chief guest Professor Dr. Yousuf Mahbubul Islam said, television, mobile, internet, facebook and many other things keep us busy for whole days. So that we have not enough time for reading book. But book reading habit is essential for our life, career and due to gathering knowledge.