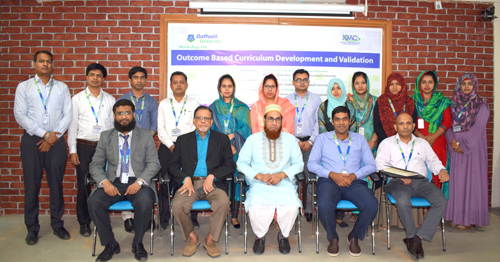 Distinguished guests and faculty members at the workshop
Department of Pharmacy of Daffodil International University organized a daylong workshop on "Outcome Based Curriculum Development and Validation" under Institutional Quality Assurance Cell (IQAC) on 24th March,Saturday, 2018, at Digital Class Room, 2nd Floor, Daffodil Tower. Prof. Dr. M. Mozahar Ali, Director, Graduate Training Institute of Bangladesh Agricultural University, Mymensingh was the resource person at the workshop. He highlighted the process of developing outcome based curriculum for the Department of Pharmacy.
Professor Dr. S.M. Mahbub Ul Haque Majumder, Pro-Vice Chancellor of Daffodil International University was present at the workshop as chief guest and Professor Dr. A. K. M. Fazlul Haque, Director, IQAC, Daffodil International University was present as special guest. Dr. Sk. Abdul Kader Arafin, Additional Director, IQAC and all the faculty membersof the Department were also present in the workshop. The program was presided over by Md. Mustafezur Rahman, Assistant Professor and Head, Department of Pharmacy, Daffodil International University.