Orientation for newly joined Faculty Members at Daffodil International University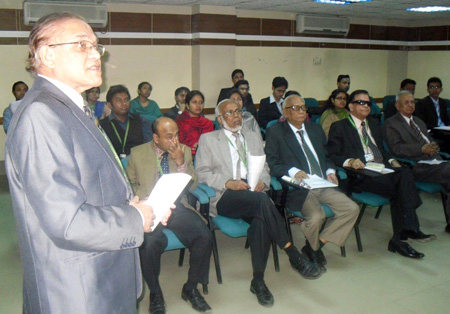 Prof. Dr. M. Lutfar Rahman, Vice-Chancellor, Daffodil International University
is seen to deliver a multimedia presentation at the orientation program
The orientation program for the newly joined Faculty members of Daffodil International University was held today on January 11, 2012 at the Conference Room of the university. Presided over by Prof. Dr. M. Lutfar Rahman, Vice-Chancellor, Daffodil International University the orientation program was also addressed by Professor Dr. Aminul Islam, Emeritus Professor, Prof. Dr. S. M. Mahbub-Ul- Haque Majumder, Controller of Exam & Dean, Faculty of Science and Information Technology, Prof. Rafiqul Islam, Dean, Faculty of Business and Economics.
Prof. Dr. Golam Maowla,Chowdhury, Proctor & Head of ETE Dept., Prof. Dr. Syed Akter Hossain, Head, CSE Department, Prof. Dr. Md. Mahabub-Ul Haque , Head, Textile Engineering Department, Prof. Dr. Yousuf M. Islam, CSE Dept., Dr. Md. Fokhray Hossain, Registrar and Mr. Mominul Haque Majumder, Director (Finance & Accounts) and Mr. Milon Khan, Librarian, Mr. Muhammed Rashedul Hasan, Acting Head, JMC Dept. were also present at the orientation.
Professor Dr. M. Lutfar Rahman, Vice-Chancellor, Daffodil International University welcomed the newly joined faculty members and urged to make the best use of the facilities and resources provided by the university and build the students to fit for face the challenges of the 21st century. He said that Daffodil International University is doing well in all respects. Commitment, Transparency and Quality of Education made the university renowned. DIU provides its faculty members best available resources to pursue their teaching methods and techniques and hone their skills.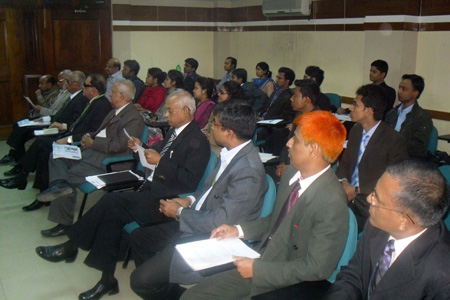 Participants at the orientation program
Urging the faculty members to be a complete human being and ideal teacher Emeritus Professor Dr. Aminul Islam said that three major things-discipline, honesty and quality can make a life success. To be a complete citizen of the country he advised the faculty members to achieve those virtues. He also urged the faculty members to uphold quality education at any cost.
A total of 15 full time faculty members joined in different faculties of Daffodil International University in this semester.