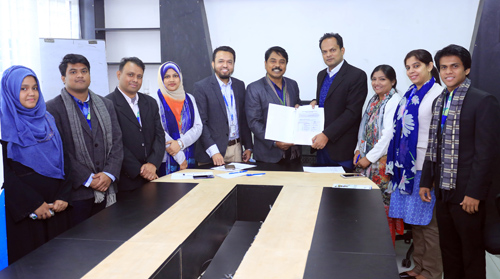 Agreement signing ceremony 
The Department of Tourism and Hospitality Management (THM) of Daffodil International University has purchased Amadeus-Travel Aid software to ensure producing skilled human resource from Daffodil International University. In line with that, they sat together with Amadeus on 8th, January, at the conference hall of Daffodil Business Incubator for Continuous networking and cooperation between Amadeus and THM of DIU. Accordingly Amadeus-Travel Aid software was installed on 23-25th January, 2018. The training was conducted phase by phase.
Through this Students will be provided and trained up the application of the software as well as recognition certificate so that they can highlight this soft skill in the job market.
Accordingly, the Basic Functionality Training Course of Amadeus-Travel Aid was held from March 03 to March 07, 2018. This training has enriched the knowledge of the tourism industry and airline ticketing which is shared to the students and would be useful for providing practical training to them and strengthened the relationship between Amadeus Bangladesh and Daffodil International University. Students would have come to know some new technological advancement worth to be shared.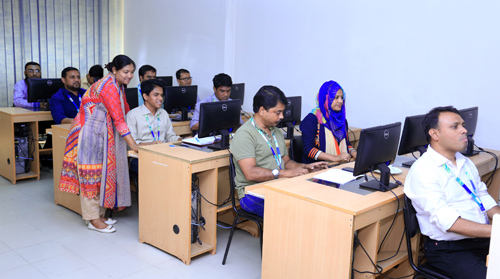 A partial view of the Training session
Mr. Mahbub Parvez,-Associate Professor and Head, THM, DIU, Mr. Mohammed Nadir Bin Ali-Joint Director (IT), Md. Golam Mostofa-Assistant Professor, THM, DIU, Mr. Kamrul Hasan Bhuiyan-Lecturer, THM, DIU, Mr. Nabil Bin Faruk-Lecturer, Mr. Raiyan Mustafa-Assistant Director (IT), Mr. Md. Rashedul Hassan-IT Officer, Mr. Md. Masud Parvez-Senior IT Officer have attended the whole sessions. Mst. Khadijatul Kobra, Sr. Lecturer, THM, DIU was the convener & coordinator of this training session and Ms. Diloara Yesmin, (Manager Training) conducted the sessions on behalf of Amadeus.