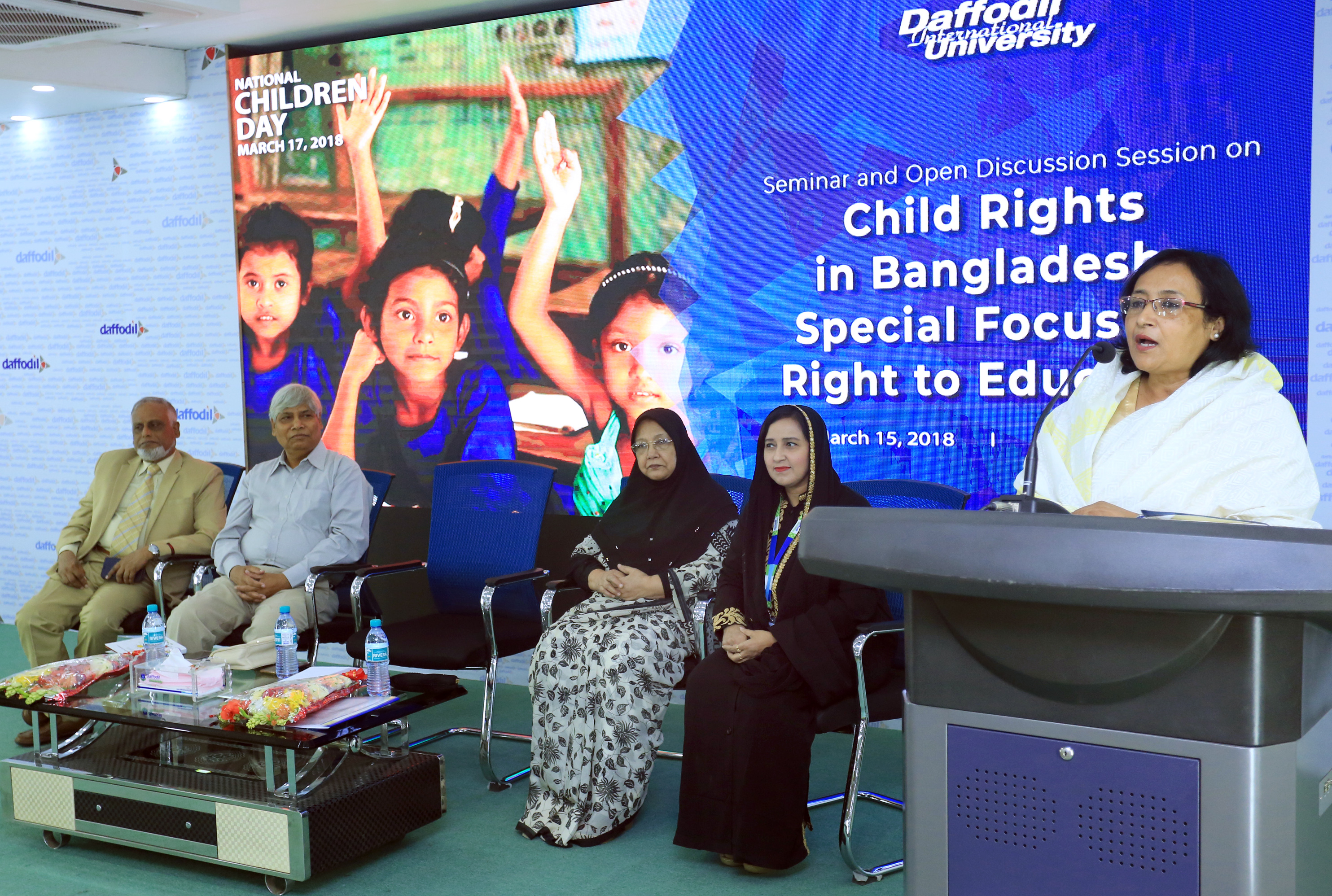 Department of Law, Daffodil International University organized a seminar and open discussion session titled 'Child Rights in Bangladesh: Special Focus on Right to Education' on 15th March, 2018 in observance of the National Children's Day two days later (March 17).Mrs. Mahmuda Sharmin Benundc, Additional Secretary of the Ministry of Women and Children Affairs, Government of the People's Republic of Bangladesh, adorned the seminar as the Chief Guest and Mr M Habibur Rahman, Vice Chair of Bangladesh ECD Network and Senior Educationist Advisor of Save the Children, Bangladesh, graced the event as the Special Guest. Professor A. M.M. Hamidur Rahman, Dean of the Faculty of Humanities & Social Science of the University was also present and Professor Dr. Farhana Helal Mehtab, Head of the Department of Law, presided over the seminar & open discussion. Mr. Muhammad Omar Faruque, a lecturer of the department of law, moderated the seminar.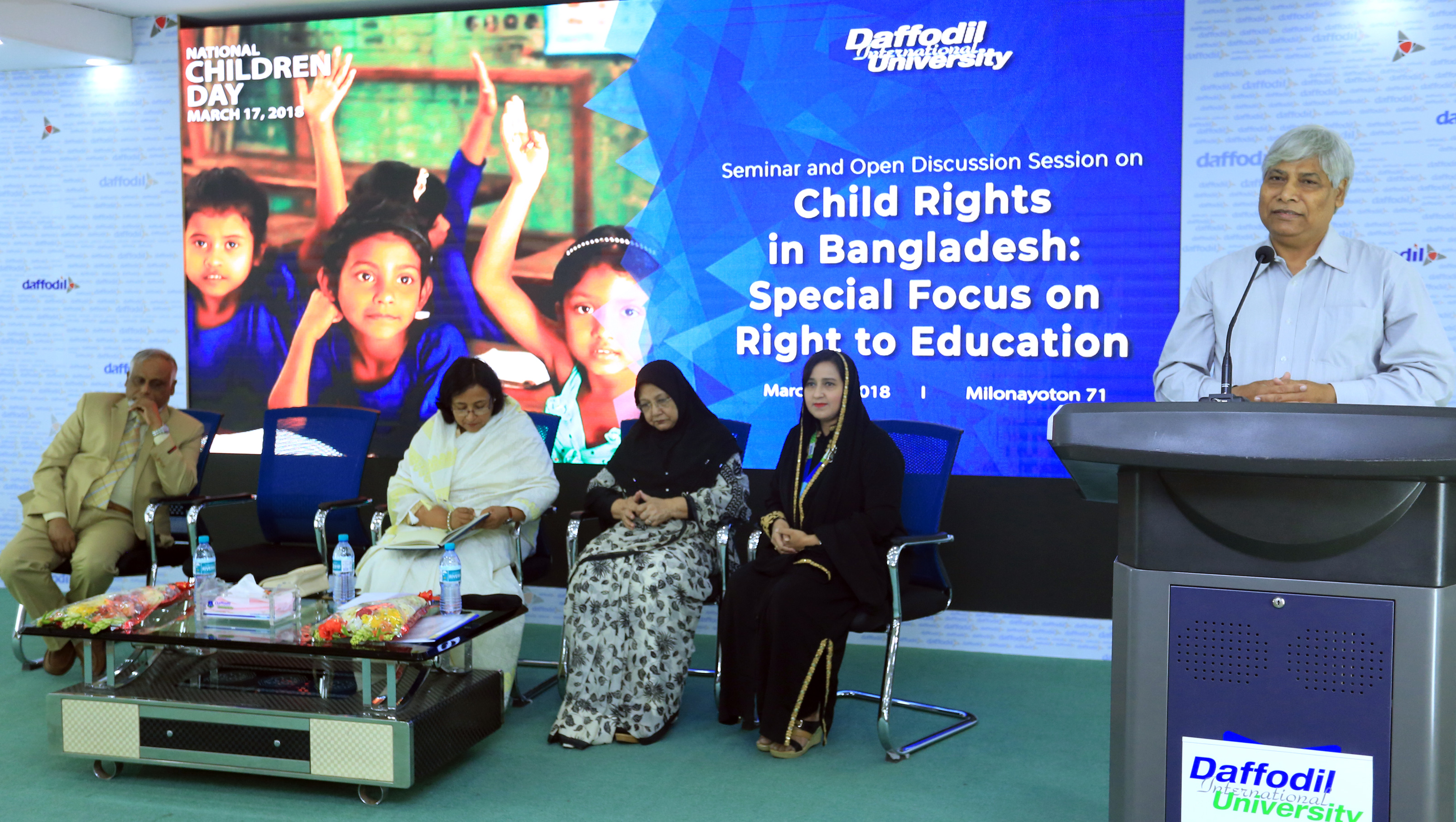 Mrs Helena Islam, wife of the late Professor DrAminul Islam, founding Vice Chancellor of Daffodil International University had the singular honour of inaugurating the seminar. The seminar began with opening addresses from the Chair and Dean followed by introductory remarks from the Special Guest and the Chief Guest. The opening session was followed by a short documentary on the condition of child rights in Bangladesh, which set the tone for more serious topical discussions. Mr. Arif Mahmud, a lecturer from the Department of Law, then presented on child rights in Bangladesh covering issues ranging from Constitutional and legislative protection of child rights, International legal frameworks, policy approaches, deficiencies in law and gaps in policy.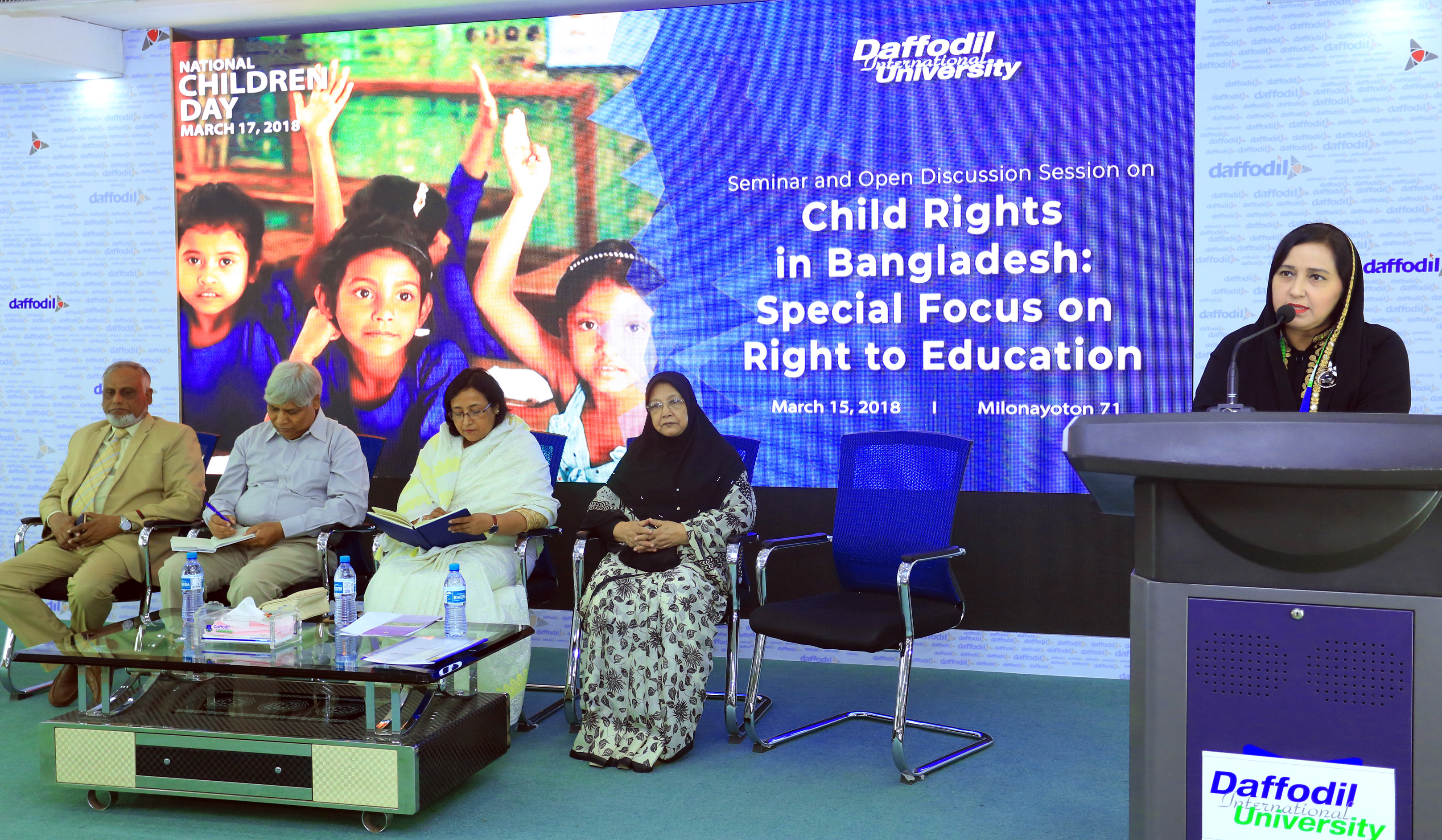 The Chief Guest Mrs. MahmudaSharminBenu, ndc, highlighted the initiatives taken by the Government, which includes income generation program for the poor parents so they are not dependent on their children's income. She informed the audience that regular inspection is being conducted to punish the owner of workshops and factories where children are involved in labor and that in every district a committee has been formed to prevent child marriages. She also announced that a scheme for a monthly statistical analysis of the reasons behind girls dropping out has also been tested and will soon be launched.

The Special GuestMr M Habibur Rahman underscored that learning starts from the womb and praised the early childhood development policy prepared by the ministry. He highlighted five major issues for ensuring the quality of primary education: Quality of the teachers, adequate availability of teaching and learning materials, environment of schools, monitoring quality of the education and raising parental awareness. The session was concluded after a lively question-answer session and a formal group photo session.