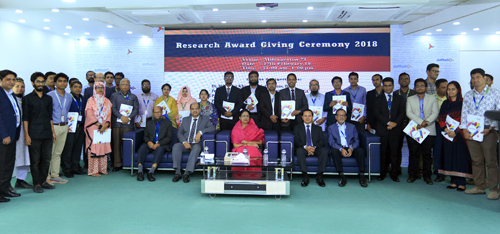 Recognized researchers of Daffodil International University pose for as photograph with Prof. Dr. Dil Afroza Begum, honorable member of University Grants Commission of Bangladesh (UGC) and other distinguished guests at the "Research Award Giving Ceremony 2018" held at Daffodil International University.

To encourage the researchers, Daffodil International University organized "Research Award Giving Ceremony 2018" on 27th February 2018 at 71 Milonayoton of the university. Prof. Dr. Dil Afroza Begum, honorable member from University Grants Commission of Bangladesh (UGC) was present as the chief guest in the program. Dr. Md. Sabur Khan, Chairman, Board of Trustees, Daffodil International University was present as the guest of Honour, while Prof. Dr. Yousuf M. Islam, Vice chancellor, Prof. Dr. S.M. Mahbub Ul Haque Majumder, Pro Vice Chancellor, attended as special guest in the program. The Program was conducted by Prof. Dr. Kabirul Islam, Director of Research of Daffodil International University.
This event acknowledged a total number of 90 Scopus indexed publications which have been authorized by Daffodil International University faculty members, staff and students. This event was a celebration of collective success and personal satisfaction that honours the creative and innovative spirit as well as rewards hard work and dedication and an unstinting commitment to excellence. Awardees received certificate and financial incentives for their scholarly work.
In 2017, researchers from the Department of Software Engineering published remarkable amount of research articles on software testing, requirement engineering, technology management, e-learning and optics. Research on language processing, image processing and authentication were conducted by the Department of Computer Science and Engineering. Research on meteorological drought, corporate governance, micro- finance and employee turnover from garments industry were carried out by the Department of Business and Economics. Researchers from General Education Development conducted research on plasma. Different research on the effect of Janus particle, colour properties and different fabrics were examined by researchers from the Department of Textile Engineering. Ethnopharmacological survey on traditional medicinal plants and Biological investigation of jatropha gossypiifolia were done by the Department of Pharmacy. Research on antenatal and postnatal care practices among mothers and nutritional status of children living in an orphanage in Dhaka were conducted by Department of Public Health. Additionally, the faculty of Engineering had worked on Tunable Fabry perot filter, autonomous vehicle and solar cell etc.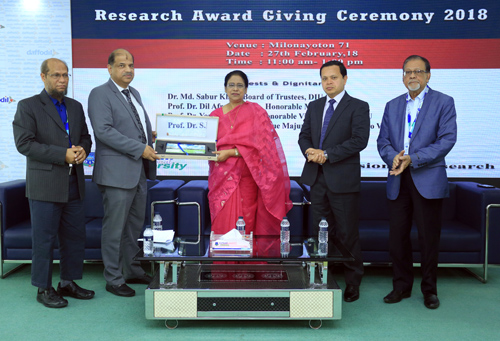 Prof. Dr. Yousuf M. Islam, Vice chancellor of Daffodil International University handing over a memento of the university to Prof. Dr. Dil Afroza Begum, honorable member of University Grants Commission of Bangladesh (UGC) at the program. 
Publishing research results is an integral part of a researcher's professional life. Dissemination of research result is just as important as the research activity itself. This will ensure the use of research results is maximized. The number and quality of the publications is an important, possibly the most important factor deciding the career of a scientist or researcher.
Indexing will help any journal to achieve its main purpose of being accessible to a wide audience. Indexation of a journal is considered a reflection of its quality. Indexed journals are considered to be of higher scientific quality as compared to non-indexed journals.
Scopus is a multidisciplinary indexing and abstracting database, covering citations from journals, the Web, patent databases and other sources in the sciences, social sciences and the arts & humanities publications. Scopus claims to be 'the largest abstract and citation database of peer-reviewed literature and quality web sources'. It is owned by Elsevier and is available online by subscription.
Being indexed in Scopus is a major attainment for journals worldwide and achieving this success brings with it not only a measure of satisfaction but also assurance of the quality of any journal to other members of the scientific community.