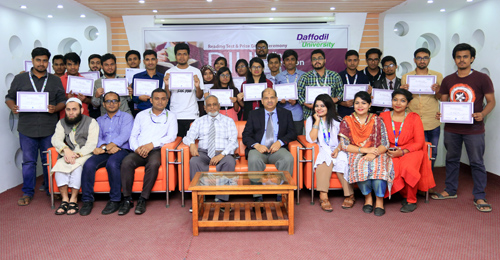 Professor Dr. Yousuf Mahabubul Islam along with Distinguished guests and Winners & Participants of Book Reading Competitions
"DIU Reading Competition 2018" has got the start at Daffodil International University (DIU) with a view to stimulating the habit of reading books among the students as well as to create a reading culture in the university. The competition has begun with the slogan "Reading for a Meaningful Life and Career" on 18 February 2018 at the Banquet Hall of Daffodil Tower of the university. In the inauguration ceremony, the reading materials for the competition, that is, a selection of six classic short stories were handed over to the students by the Chief Guest and initiator of the competition Professor Dr. Yousuf Mahbubul Islam, the Honorable Vice Chancellor of DIU. Prof. Islam also conducted a workshop on "How to Read" after the Inauguration Ceremony where, among others, Professor AMM Hamidur Rahman, Dean of the Faculty of the Humanities and Social Sciences of DIU, and Professor Dr. Md. Golam Mowla Chowdhury, the Controller of Examination of DIU, were present as the Special Guest and the Chair respectively. Heads of the Department of ETE and English were also present in the occasion. Only the first year students from the Faculty of Engineering were allowed to participate in this round of the competition.
The Round I of the reading competition took place on 25 February 2018 among those students of the Engineering Faculty who received the reading materials and attended the workshop a week before in the day of inauguration. All the dignitaries from the inauguration day were present in the reading test and Prize Giving Ceremony. A good number of first year students of the Engineering Faculty participated in the competition. They were provided with some English short stories and then were asked to take an MCQ test followed by a critical writing assessment and an oral presentation based on their understanding of those stories. Five students were announced as winners who will compete with the students from other faculties in the next phases of the competition; and each of the participants got awarded with certificate of participation while the five winners were awarded with the valuable books and certificate of appreciation. This round of the competition was organized by the Faculty of Engineering and the Department of English.