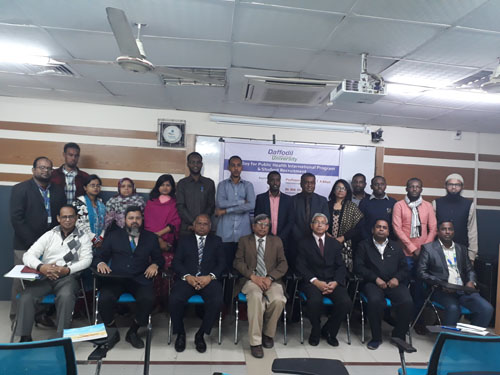 Professor Dr. Hafiz T. A Khan, international adviser of DIU, Professor Dr.Dr. Harun- Ar- Rashid, Dr. Md. Shahjahan, Head and Associate Professor of DIU among the other participants.
Department of Public Health under the Faculty of Allied Health Sciences (FAHS) of Daffodil International University (DIU) organizedaseminar on 'Open Day for Public Health International Program & Students recruitment' on January 8, 2017 at Digital classroom (303) at Daffodil Tower of DIU, Dhaka.The keynote speaker of the seminar was Dr. Hafiz T. A Khan, International Adviser of DIU, and Professor of University of West London, UK. The seminar was started with the welcome speech ofHeadand Associate Professor Dr. Md. Shahjahan,while the session was chaired by Professor Dr. Harun- Ar- Rashid of the Department of Public Health, DIU.
Professor Dr. Khan advanced his discussion into two phases;wherein first phase, he delineated the keys features, facilities and eligibility of newly designed dual program under collaboration between Departments of Public Health, DIU and Birmingham City University, UK. He also demonstrated how the program will be implemented, and the explicit roles of students, faculties and university as well. In the second phase of his presentation, he highlighted the importance of international admission, and interactively illustrated some unique strategies infacilitating admission of the international students across the world especially from African and Middle-East countries. He advised to revise the conventional methods regarding the international students' recruitment, and to initially set up aresponsible teamto assist students for international admission.
Around 40 participants from different background international students, faculty members, and admission representatives of DIU, and other professionals from private institutions joined this interactive seminar. Professor Dr. Rashidconcisely briefed the background and justification of the dual degree program in Public Health, and concluded the session.