Film Show and presentation on Multimedia Technology
at Daffodil International University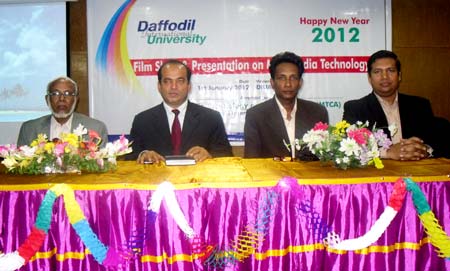 Guests on the diace
Students of the department of Multimedia Technology and Creative Arts of Daffodil International University (DIU) organized 3D Animated Film Show and Presentation on Multimedia Technology to celebrate the Happy New year -2012 today (January 01, 2012) at DIU Auditorium. Professor Dr. Golam Maowla Choudhury, Proctor and Head, Department of Electronics and Telecommunication Engineering (ETE) was present as the chief guest. Conducted by Khaled Shohel, Coordinator, Multimedia Technology and Creative Arts the function was also addressed by Md. Anowar Habib Kazal, Assistant Director (Public Relations).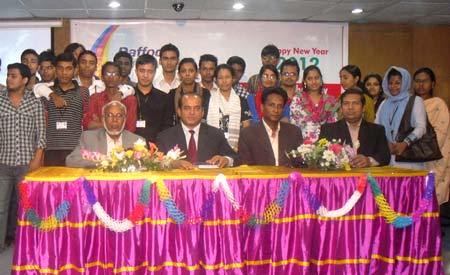 Students of Multimedia Technology and Creative Arts with the guests
Sheikh Md. Abdur Razzak, Media Lab Instructor made the keynote presentation on Multimedia Technology and explained the applications of multimedia tools and techniques through his documentary "Nijhum Deep. Later the students enjoyed the Hollywood's 3D animated movie "Nine" and "Gulliver's Travels" famous for its applications of Special Effects.