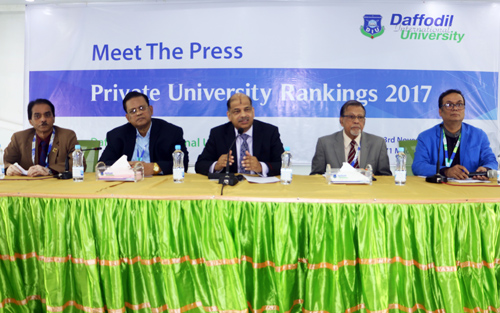 Professor Dr. Yousuf M Islam, Vice Chancellor of Daffodil International University speaking at the "Meet the Press on Private University Ranking 2017" held today at the 71 Milonayoton of Daffodil International Uni9versity.
Private University Rankings 2017 conducted by Bangla Tribune and Dhaka Tribune is an appreciable and beneficial initiative. Through this ranking each university would be able to ensure and evaluate their position and get opportunity to try to recover deficiency to come up with increasing their ranking in the list. In this way, the ranking of the universities of all over the world initiated and now it has become perfect and up to the mark. This ranking works well only when the realistic and current data are used in the research. In this ranking Employers perceptual data were very good, but did the academic information provider serve neutral information about other's university|? Daffodil International University (DIU) agree in this academic ranking and expects time befitting ranking. DIU requests that a time befitting ranking of the universities with current and latest updated data should be published.
If appropriate methodology and latest data were used, Daffodil International University would go ahead of the ranking and would take place at the top of the list, claims Daffodil International University (DIU) Vice Chancellor Professor Dr. Yousuf M Islam. He claimed this while speaking at a "Meet the Press on Private University Rankings 2017" held today on 23rd November at 71Milonayoton of Daffodil International University in the capital. The Meet the Press was also addressed by Professor Dr. S M Mahabub Ul haque Majumder, Pro Vice Chancellor, Mr. Hamidul Haque Khan, Treasurer, Professor Dr. Engineer a k m Fazlul Hoque , Registrar and Mr. Syed Mizanur Rahman, Director of Student Affairs.
Recently, Bangla Tribune and Dhaka Tribune have jointly published a ranking report on private universities of Bangladesh which was conducted by Org-Quest Research Limited, According to the ranking Daffodil International University has placed 10th position (total score 61.88) on perceptual ranking and 20th position (51.06) on factual ranking on that report. Combining both the ranking the report has sown that Daffodil International University has placed on 10th position scoring 56.47. But this ranking is not realistic. The authority of Daffodil International University thinks that this kind of ranking is obviously important to ensure quality and standard world class education in Bangladesh. But it requires maintaining world class standard as well as accepted by mass people. Most of these is absent in this report.
Professor Dr. Yousuf M Islam, Vice Chancellor, DIU said at The Meet the Press that , according to the report, the factual data has taken from University Grant Commission report published in the year of 2014. Actually that was the reports of year 2013 submitted by the universities. The perceptual data was taken in the year2017. If the recent (2017) factual data would be taken, the point of Daffodil International University obviously would increase and would come to the top position of the list and this would be the realistic. So, this situation raises various questions in our mind. Daffodil International University could score higher, but deprived.
In the research, the factual score was considered based on some variable like- total number of students, number of books in library, research expense, numbers of PhD degree holders, size the campus, teacher-student ratio, percentage of full time faculty member and number of research paper.
Total area of DIU campus is 10 lac 26000 square feet. But a university having 6.65175 square feet campus area placed on the top of the ranking.How is it possible?
Daffodil International University has an individual 5 storied building which is absolutely used for library purpose. It has 60,600 number of e-book. Student can use online e-book from renowned publications around the world. The total number of foreign student of Daffodil International University is 400+ and this number is 50% of the total foreign students studying in Bangladesh.
About perceptual score, the report has sown the environment of education, infrastructure of University, quality of faculty member, skill of alumni in career life etc. But there is no clear declaration about this surveys that how they consider these components. The variables which are considered in the research work in the developed countries, many of those were not considered in this research.
The university authority doesn't consider who has become first or second in the ranking, but, the truth is that real information is not reflected in the research work. Through this report students and guardians may be misguided or confused and total education system would become under question. The reality is that many reputed educational institutions maintain quality and standard have become by this report.
Professor Dr. Yousuf M Islam also said that Daffodil International University has introduced "One student One laptop'' program from very beginning to equip the students as skilled human resource. DIU has started entrepreneurs' development program to ensure employment of huge number of unemployed graduates and DIU also established country's first 'Department of Entrepreneurship'. DIU introduced country's first specialized course on 'Multimedia and Creative Technology' and 'Real Estate'. Daffodil International University is the only university where 'Art of living' course is conducting to develop and learn students about ethics, morality and social values to prepare them as loyal and human being. DIU is not creating graduates to seek jobs rather our graduates are providing employment of thousands of graduates as Entrepreneurs. For over all development of the student's quality education, DIU conducts Employability 360 degree course, Vendor Certification course, student exchange program, scholarship programs, expands industry-academia linkage. For personal development every student, a teacher is engaged as supervisor and mentor. Total education of DIU is Outcome based education.
Daffodil International University presumes that, only well equipped modern class room based education cannot assure the proper quality education. It requires green campus including play ground, Swimming Pool, gymnasium and many other where a student can take open breath.