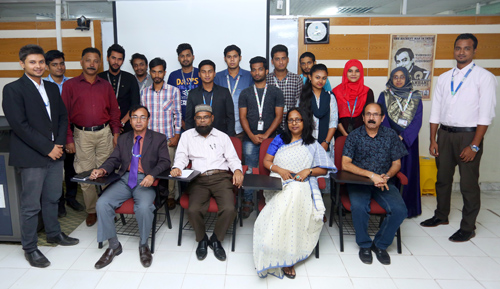 Participants pose for a photograph along with the distinguished guests
The inaugural program of 'BSCIC-DIU Joint Training Course' jointly organized by Bangladesh Small and Cottage Industries Corporation (BSCIC) and Daffodil International University (DIU) was held on 01 November 2017 at the Digital Classroom of Daffodil Tower, DIU. Mohd. Rezaul Karim, Joint Secretary (Director Project), BSCIC was present in the occasion as the Chief Guest while Mr. Abu Taher Khan, Director, Career Development Center preside over the function. Mrs. Manoara Begum, Chief Designer, BSCIC; Mr. Ali Akter Shahin, Deputy Chief Designer, BSCIC and Mr. Jashim Uddin, Instructor of the course also addressed in the occasion. Total 11 registered students along with other officials of DIU took part in the inaugural training program.
It may be mentioned that a series of training courses will be conducted under this program. The training courses will be in the field of Batik Print, Screen Print, Block Print, Fashion Design and Textile, Net/ Thai flower making, Fabric doll, Jute handicraft, Leather handicraft, Packaging handicraft, Weaving, Wood handicraft, Pottery, and Bamboo Packaging handicraft.