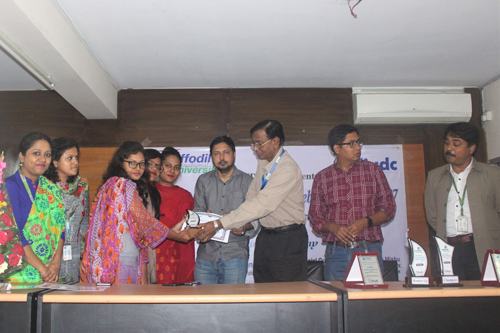 Mr. Abdullah Md Shukarana, President of Bangladesh Debate Federation (BDF) distributing prizes among the winners of DIUDC Debate Festival 2017 held at Uttara Campus of Daffodil International University.
The Final and Award Giving Ceremony of 10 day long 3rd Daffodil International University Debating Club (DIUDC) Debate Festival 2017 was held yesterday on October 30, 2017 at the auditorium of Uttara Campus. Mr. Abdullah Md. Shukarana, President of Bangladesh Debate Federation (BDF) was present as the chief guest while Mr. Mahfuzur Rahman Mishu, Special Correspondent of Jamuna Television and Ex-General Secretary of BDF was present as the Special Guest. The Award Giving Ceremony was attended by Ms. Tanzina Hossain, Director, Academic (In Charge), Mr. Anil Chandra Paul, Director Administration, Mr. Mahbub Parvez, Moderator, DIU DC, Dr. Harun-or Rashid, Deputy Director, Ms. Tahsina yasmin, Coordinator & Associate Professor of English Department and Ms. Rabeya Binte Habib, Convener, Debate Festival.
Legal Paradox- Laws from Law Department became Champion in Bengali debate and Rising Sun from English Department became champion in English Debate. Mahmudul Hasan Rakib, from Law Department and Md. Samsus Sajeedin from English Department were declared best speakers of Bengali and English debate respectively. In the Festival there were in total 16 teams for Bengali and English debate starting on October 20 following a workshop.