March of DIU Photography Society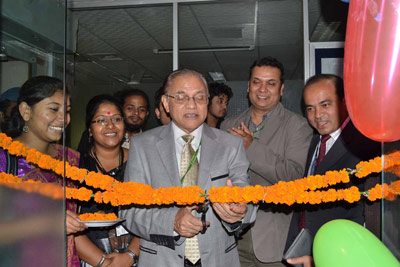 Professor Dr. M. Lutfar Rahman, Vice-Chancellor, Daffodil International University
inaugurating the Photography Exhibition as the chief Guest
DIU Photographic Society of Daffodil International University officially launched its activities through organizing a three day long Photographic Exhibition at Students Lounge of the university from December 10-12, 2011. Professor Dr. M. Lutfar Rahman, Vice-Chancellor, Daffodil International University inaugurated the Exhibition as the chief Guest. Mr. Syed Mizanur Rahman, Coordinator, Career Development Center, Dr. Binoy Barmon, Head, Department of English, Mr. S. M. Abdur Razzak, Moderator, DIU Photographic Society, Mr. Md. Anowar Habib Kazal, Assistant Director (Public Relations), Mr. Ziaul Haque Sumon, Sr. Administration Officer, Adib Rahman, President, DIU Photographic Society also spoke on the occasion. A total of 53 photographs of 32 photographers of different department took place in the exhibition. Best three Photographs will be awarded.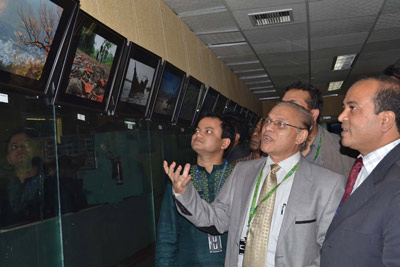 Vice-Chancellor Prof. Dr. M. Lutfar Rahman visiting the Exhibition Hall
Addressing as the chief guest Vice-Chancellor Prof. Dr. M. Lutfar Rahman appreciated the organizers and congratulated the participants and assured of providing necessary logistic support to speed up the activities of the society and other relevant activities. He stressed on the necessity of such type of society in the university and urged the students to come forward with professional attitude. The programme was concluded with vote of thanks by Sheikh Md. Abdur Razzak, Moderator, DIU Photographic Society.
Later Vice-Chancellor accompanied with other distinguished guests visited the exhibition hall and appreciated at their photographic works.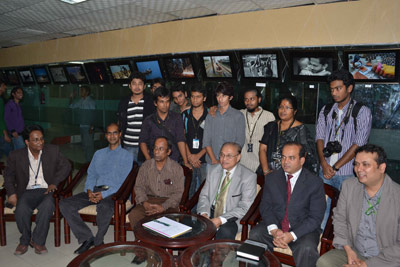 Members of the DIU Photographic Society with the guests
at the inaugural ceremony of the Photographic Exhibition
Zannat, a student of Journalism and Mass Communication is credited with a professional photographer, now working as a photographer in "The Independent". She has the aspirations to express her visions and realizations on life through her photography and uphold & spread those among the society and country men.
Moni Jubayer, Hasib, Labony, Mousumi, Bidita, Thahnan Ferdous, Faisal, Tarek, Mohiuddin, Allama Iqbal Anik and some other students have already drew the attention of the students as a photographer.