ASOCIO team headed by its Chairman visit Chairman, DIU at his Office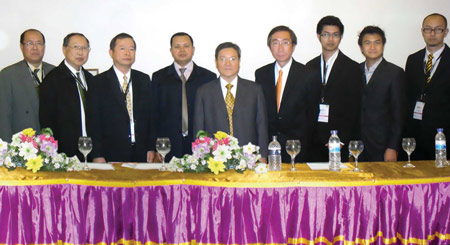 A high profiled International team headed by Dr. Looi Kien Leong, Chairman, ASOCIO, Malaysia visited the Office of the Chairman, BOT, DIU on 1st December 2011 noon on way to their short visit to Bangladesh. Among others, the team was comprised of Dr. Wong Say Ho, Secretary General, ASOCIO, Japan; Mr. Bunrak Saraggananda, Chairman & CEO, Magic Software, Ex President, The Association of Thai ICT Industry (ATCI), Thailand; Mr. Kittinan Anuphan, CO, CEO & President, Arunsawad Dot Com Co. Ltd., Thailand; Mr. Patai Padungtin, Principal/ Evangelist, Builk Asia Co. Ltd., Thailand; Mr. Thamanoon Vechvittayakhlung, GM, Nippon Sysits Co. Ltd., Thailand; Mr. Kittinan Anuphan, Local Innovation, ATCI, Bangkok; Mr. Pravit Chattalada, Executive Director, ATCI, Bangkok; Mr. Sukanin Manmak, Senior Software Engineer, Netka System Co. Ltd, Thailand; Mr. Pichai Asavanapakas, Deputy Managing Director, Netbay Co. Ltd, Bangkok. The team has had a meeting followed by a dinner with Mr. Md. Sabur Khan, Chairman, BOT, DIU showed their great satisfaction while visiting different sections of the university.

The Asian-Oceanian Computing Industry Organization (ASOCIO) is a group of IT industry associations coming from economies in the Asia and Oceania region. ASOCIO is established in 1984 with the objective is to promote, encourage and foster relationships and trade between its members, and to develop the computing industry in the region.
Presently, ASOCIO represents the interests of 29 economies, comprising 22 members from Australia, Bangladesh, Brunei, Chinese Taipei, Hong Kong, India, Indonesia, Japan, Laos, Macao, Malaysia, Mongolia, Myanmar, Nepal, New Zealand, Pakistan, Philippines, Singapore, South Korea, Sri Lanka, Thailand, Vietnam and seven guest members from USA, UK, Canada, Spain, Russia, France, and Kenya. Today, ASOCIO's members account for more than 10,000 ICT companies and represent approximately US$350 billion of ICT revenue in the region.