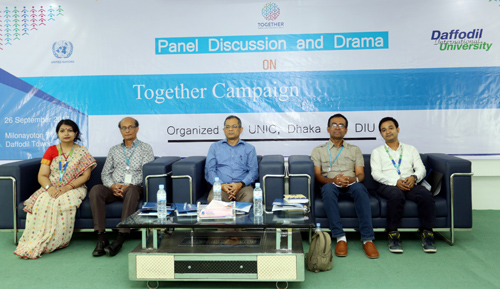 Guests at the "Together Campaign' program jointly organized by Daffodil International University) (DIU) and United Nations Information Centre, Dhaka.
Daffodil International University) (DIU) and United Nations Information Centre, Dhaka (UNIC, Dhaka) jointly organized a panel discussion and drama on "Together Campaign'. The programme was held on September 26, 2017 at Milonayoton 71of the university. M Moniruzzaman, Officer in-Charge, UNIC, Dhaka, Mr. Rafi Al Mahmud, Convener, (DIUMUNA), Mr. Md. Zahid Hossain, Human Rights Advisor, Office of United Nations Resident Coordinator (UNRC Office, Dhaka), Prof. Dr. Delwar Hossain, Dept. of International Relations, University of Dhaka and Shamsi Ara Huda, Assistant Professor, Dept. of English (DIU) were present as the panel discussant.
Mr. M Moniruzzaman said that 'Together Campaign' is the global campaign. 8 countries have been selected for organizing this campaign and Bangladesh is one of them. This programme has launched in 2016 in Bangladesh. We are thinking to solve the migrant problem not only in Bangladesh but also globally. We are communicating with local communities to help and take responsibility for migrants or refugees through this 'Together Campaign'.
Mr. Md. Zahid Hossain said that, "Together we want to achieve something. This campaign is connected with the theme of international peace. Together is a platform or spirit. Together actually is for togetherness".
A panel discussion on the issue of attitudes towards refugees and migrants was held to introduce the new UN campaign to counter xenophobia: Together – Respect, Safety and Dignity for All. Many young people expressed interest in the Together Campaign and inquired on how they could help the UN to implement it in Bangladesh.
The programme started with recitations from the Holy Quran, Geeta Path, Tripitok, and Bible by DIU students. After that a video presentation about UN Secretary-General Antonio Guterres on TOGETHER Campaign presented in the programme. At the end of the programme a drama titled "Manush Byapito Manush" was staged by All Stars Daffodil.