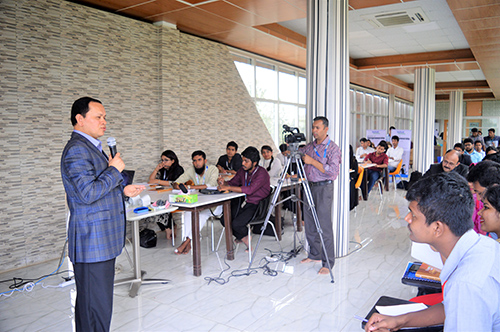 Mr. Md. Sabur Khan, Chairman,Board of Trustees,DIU introduced himself as the Course Teacher and conducting the course titled "Entrepreneurship in Action"
To equip students of Department of Entrepreneurship with true motivation, guidelines and career solution and to share the secrets of real life learning and experience, Mr. Md. Sabur Khan, Chairman, DIU introduced himself as the Course Teacher of the course titled "Entrepreneurship in Action" which is offered in this semester to the students of Department of Entrepreneurship. The Chairman himself designed the course curriculum of this 06 credit course offered in the Department of Entrepreneurship in Summer 2017 trimester. The first daylong session of the course, which was totally interactive and participative in nature, was held at the Permanent Campus on 16th May 2017. Due to the dynamic style of teaching, students enjoyed a lot and they learned with joy. It helped them to keep their concentration and spirit up till the evening without monotony.

Students attends the class conducted by Mr. Md. Sabur Khan, Chairman, Board of Trustees
Mr. Khan covered up all students query and keeping note all of their asking. He is now initiating another milestone for DIU called Employability 360 course to fit DIU students for the job market. In his vibrant lecture, he mentored different tips and techniques of entrepreneurship to the students that spirited them and made their whole day meaningful and educative with interaction and question answering. Some of his teaching secrets he applied, that can bring a radical change to a student's learning process, and also can establish effective new model for teachers and students.
DIU Chairman listened carefully to every student, and gave specific solution according to the student feedback. He talked with every student individually and turned them inquisitive and interested knowledge seeker. He turned his lectures according to the instant need raised by the students. He converted every problem raised by students to a positive solution and made the student understandable: Entrepreneurs are solution makers, every problem is an opportunity, they create opportunity from a problem.
Mr. Md. Sabur Khan's teaching model comprised of: proper pre-work before taking class, to the point discussion according to topic, case study and practical examples, listening quality of the teacher, solving student's problem through note taking, personal profiling by the teacher, let the students to speak out their problem/ questions (make them extrovert), get students feedback and teach them how to solve their problem positively by their own, answering questions, give mentor's guideline, motivation, building team spirit, techniques to capitalize a teachers' expertise by the students properly, no traditional ppt and copy-pasted information while conducting lecture, practical course materials, instant problem solving through sharing, process to achieve subject based knowledge, etc.

It is the first time he has introduced himself in Bangladesh to be an academician as a course teacher. Since beginning of his career, however, Mr. Khan contributed in thousands of public speaking, talk shows, interviews, training, career guideline sessions and mentorships. Praising teaching approach of DIU Chairman, Mr. Syed Maruf Reza, Head, Department of Entrepreneurship showed his confidence that, unique pedagogy style and new teaching trend set by the Chairman himself, will truly ensure learning of the students and should be replicated.

The text book of this course is "A Journey towards Entrepreneurship", written and published by Mr. Md. Sabur Khan. He has written and published some other books on entrepreneurship based on his real life experience as an entrepreneur, such as: "Handbook of Entrepreneurship" and "Uddokta Unnoyon Nirdeshika". His other book "Art of Living" is presently run in the academic curriculum in the university as a mandatory course for all the students. Mr. Md. Sabur Khan has been the visiting professor in some foreign universities.