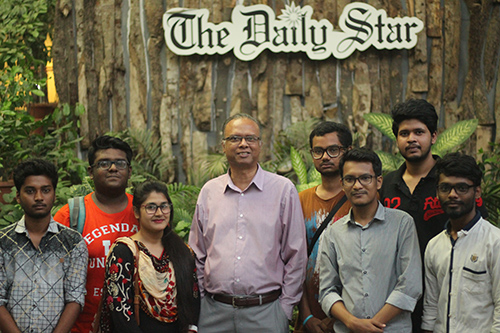 Students along with their course teacher pose for a photograph at The Daily Star Premises.
Twelve students of the Department of Journalism and Mass Communication visited the Daily star on the evening of 13 April, Thursday to gain industry experience.
The students from the 23rd batch, all having specialized reporting as their course, went around the news room of the Daily Star and talked with different department chiefs.
The tour was arranged by their course teacher and department Head Saleem Ahmed. Mr Ahmed accompanied them on the tour and introduced them to the key personnel of the news room at The Daily Star.
They first met the Deputy Executive Editor Syed Ashfaqul Haque who talked with them about the unique newsroom management of The Daily Star. He discussed at length the relation between reporters, sub editors, Photo Journalists, and Design section and gave an overview of the daily news handling procedures and problems. The students also asked him questions regarding the different aspects of news selection, photo selection and the intricacies of editorial judgement in daily news operation.
Reaz Ahmed, the assignment editor of The Daily Star, discussed the need for special stories and the beat reporting system in The Daily Star. He illustrated different points with practical examples from everyday reporting. The students also asked for explanations of different reportorial functions and the need for accuracy and objectivity in reporting.
Sazzad Ahmed, Business Editor of The Daily Star explained the principles and philosophy of business reporting and also explained the importance of business reporting and the special nature of the country's business and economy.
Pinaky Roy and Abul Kalam Azad, Chief Reporters of The Daily Star also talked with the students and explained their jobs in coordinating the reporting process with the local reporters and the district correspondents.
Abdul Jalil, Country Page editor, also talked with the students and explained how the page was organized and published.
The Online section was introduced by Online journalist Sumaiya Zaman. She described her role and functions with the social media and why it was important to engage readers through social media.
Sheikh Enamul Haq, Chief Photojournalist of The Daily Star, also talked with the students and showed them around the section and introduced the students with other photojournalist of the Daily Star.
Photojournalist Anisur Rahman described his most memorable experience in news coverage. He shared his experience of covering the August 21 grenade attack on now Prime Minister Sheikh Hasina and underlined the need for professionalism in the face of extreme personal risks and tragedy.
The students also talked with the Design Editor of the Daily Star who explained about the page makeup and design process. They also witnessed how the first edition of print edition was put together and sent to the press for printing.