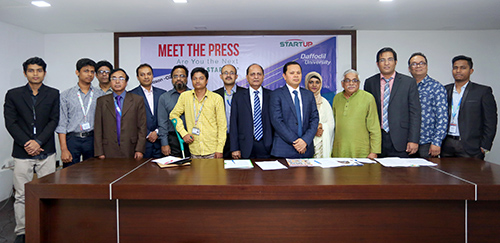 Mr. Md. Sabur Khan, Chairman, Board of Trustees, Daffodil International University along with other distinguished guests at the "Meet the Press" held at National Press Club organized by Entrepreneurship Department of Daffodil International University.
Entrepreneurship Department of Daffodil International University is going to develop 500 new Entrepreneurs (30% women entrepreneurship) in the country within next 5 years under the project titled "Are You the Next Startup?". This was informed at a "Meet the Press" held today on April 1, 2017 at National Press Club. Under this project best quality Young stars will be find out from all over the country and will be provided 100% scholarship in the name of country's renowned industrialists as well as all sorts of logistic supports and cooperation will be extended towards them until and unless becoming a successful entrepreneur.
The meet the press was addressed by Mr. Md. Sabur Khan, Chairman, Board of Trustees, Daffodil International University, Conducted by Mr. Syed Mizanur Rahman, Director of Student Affairs of the university, the meet the press was attended by Mr. Abu Taher Khan, Director, Innovation and Incubation Center, Mr. Syed Maruf Reza, Head, Department of Entrepreneurship of Daffodil International University, Mr. Tarun Chakrobarti, CEO, Channel 24, Dr. Md.. Mojahidul Islam, Director, SK&F, Transcom Group, Mr. Ziauddin, General Manager, PKSF, Mr. Syed Md. Alamgir, Executive Director, ACI Ltd., Mr. Robin Dutta, General Manager, Adcomm Ltd., Mr. Rafiqul Islam Rony, Head of Marketing, BRB Cable Ind. Ltd.
10 scholarships in the name of 10 country's renowned industrialists were announced in the Meet the Press program. The Scholarships will be under the name of Dr. Qazi Kholiquzzaman Ahmad,( Chairman-PKSF), Mr. Latifur Rahman, (Chairman -Transcom Group), Alhaj Sufi Mohd. Mizanur Rahman, (Chairman-PHP Group), Mr. Syed Manzur Elahi, (Chairman-Appex Group), Mr. M. Anis Ud Dowla, Chairman-ACI Ltd.), Mr. A.K.Azad, Chairman-Hameem Group), Mrs. Geeteara Safiya Chowdhury, (Chairman- ADCOM Ltd.), Mrs. Rokia Afzal Rahman,(President, Bangladesh Federation of Women Entrepreneurs, BFWE), Late . Faraaz Ayaaz Hossain, (Grand Son of Mr. Latifur Rahman).
"Are You the Next Startup?" is a national talent hunt initiative organized by Department of Entrepreneurship of Daffodil International University, introduced to find out potential startups and entrepreneurs of Bangladesh. It will hunt, groom, design, organize, and manage new enterprises or business ideas to till the ultimate success of each winner.
The unique feature of "Are You the Next Startup?" is 4-years graduation program for the winners. After an intensive research we found seed startups are not growing only because of lack of knowledge and guidance. Here in this unique platform amateur entrepreneurs will be trained and graduated under the Department of Entrepreneurship at Daffodil International University for learning by doing. Potential and promising winning entrepreneurs will be awarded up to 100% scholarship for this 4-years graduation for practical and theoretical learning which will transform them into successful entrepreneurs within four years of their graduation. In addition, each and every student under this project will earn seed money to start new business during graduation that will confirm their involvement in the business sector. This project is to create entrepreneurs in the real sense and job opportunities for the huge unemployed educated population in the country that will contribute directly to increase GDP.
Motto of the Event:
To foster the national economy of our country by creating new entrepreneurs to accommodate unemployed educated young people.
Objectives of the Event:
1. To create new entrepreneurs for 21st century
2. To help the entrepreneurs to start their startups/ business
3. To develop the basic understanding on Entrepreneurship among the new entrepreneurs
4. To add values in the entrepreneurial skills of the participants
5. To build competencies and creativity of the participants
6. To contribute in the national economy through the new entrepreneurs
7. To assemble the family members of pioneer business icons in this project
8. To give the chance to the prospective stakeholders to contribute in building entrepreneurs
9. Finally to help the entrepreneurs completing their graduation from Daffodil International University
Special Features of the Event:
DIU provides the youngsters with 100% scholarships (about 8 lacs for self-financed students) of the Bachelor of Entrepreneurship program of the Department of Entrepreneurship of Daffodil International University. 30% quota will be given to the women entrepreneurs, physically challenged people, and people with special abilities.
The online application will be received from April 01, 2017 and will be closed on April 12, 2017. Se;ected Participants will be informed by April 15, 2017. Qualifier & Bootcamp will be held from April 20-27, 2017and Finalists Selection Round will be held on May 01, 2017.
For details and Registration, please go through the link below:

http://next-startup.net/