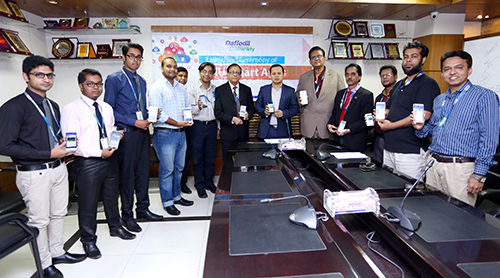 Mr. Md. Sabur Khan, Chairman, Daffodil Family along with other high officials of Daffodil International University pose for a photograph with the App at the launching ceremony of the DIU Mobile App.
Daffodil International University Mobile App (IOS & Android) named "DIU-Smart Students" has formally been inaugurated on March 25, 2017 at DIU Conference Room. Mr. Md. Sabur Khan, Chairman, Daffodil Family inaugurated the DIU Mobile App as the Chief Guest.
DIU Mobile App (IOS & Android) for the students of Daffodil International University (DIU) has added all features needed for a smart student. Students and guardians will get all sorts of information like result, Payment, Notice, Class Routine, news feed and exam schedule through this apps. Moreover, Law enforcing agencies also could be able to track any DIU student through this app. DIU-Smart Students app can be downloaded from Google Play Store and IOS Store.
Professor Dr. S M Mahabub Ul Haque Majumder, Pro- Vice Chancellor, Mr. Hamidul Haque Khan, Treasurer, Professor Dr. Engr. A. K. M. Fazlul Hoque, Registrar, Professor Dr. Syed Akhter Hossain, Head, Department of Computer Science and Engineering, Mr. Md. Nadir Bin Ali, Deputy Director (IT), Mr. Rashed Karim, Deputy Director (Software) Mr. Muhammad Rafiqul Alam, Senior Assistant Director (IT) and other high officials of the university were present at the launching program.
Five students from Department of Computer Science and Engineering (CSE) of DIU named Ferdousur Rahman Sarker, Shafayat Hossain, Israfil Mahmud Raju, Md. Mahedi and Md. Siddiqur Rahman developed this app