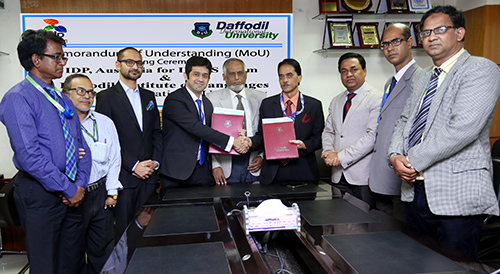 Mr. Mosharraf Khan Yaafi, Country Manager and Professor Dr. Engr. A. K. M. Fazlul Hoque, Registrar, Daffodil International University exchanging the MoU between IDP Education and Daffodil International University.
A new IELTS examination venue will be set up at Daffodil International University, located at Daffodil Tower, 4/2 Sobhanbag, Mirpur Road, Dhanmondi, Dhaka. The first test is scheduled to take place on 4 March 2017. The new venue will be greatly beneficial for the IELTS test seekers of greater Dhanmondi areas and the students of DIU and other institutions in Bangladesh.
In this regard a contract was signed between the IDP Education Bangladesh and Daffodil International University (DIU) recently at the latter's administrative office.
On behalf of IDP, the contract was signed by Mr. Mosharraf Khan Yaafi, Country Manager, and on behald of DIU, it was singed by Professor Dr. Engr. A. K. M. Fazlul Hoque, Registrar.
The signing ceremony was also attended by Professor A.M.M. Hamidur Rahman, Dean of the Faculty of Humanities and Social Sciences, Dr. Binoy Barman, Director of the Daffodil Institute of Languages (DIL), Mr. Mohammed Nuruzzaman, Executive Director of DIIT, Dr. Md. Mohoshin Reza, Head of the Department of English, Dr. Shusil Kumar Das, Professor of English, and Mr. Mohammed Shamsul Hoque, Associate Professor of English. From IDP, Mr. Simon Mansoor, IELTS Operations Manager Bangladesh, was also present.
IDP Education is the world's largest student placement and English language testing services provider. It is the co-owner of IELTS (International English Language Testing System) along with British Council and Cambridge University. IELTS is accepted as a standard measure of English proficiency by more than 9,000 organizations and universities in 135 countries of the world including the UK, Australia, Canada, New Zealand and the US. IELTS results are used for study, work and migration. At present IDP Education carries out IELTS testing in three cities - Dhaka, Chittagong and Sylhet.