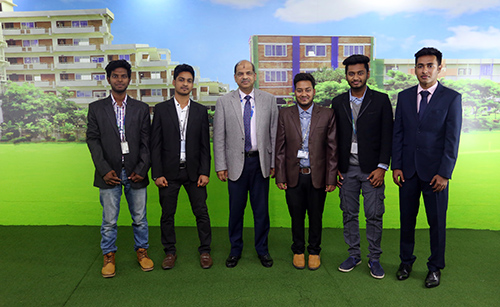 5 Students pose for a photograph along with Prof. Dr. Yousuf M Islam, Honorable Vice Chancellor of Daffodil International University before their departure
5 students of Daffodil International University (DIU) left Dhaka on January 27, 2017 to study at VIT University, India under "Student Exchange Program" , The students are Md. Shahinur Islam, Md. Shafiqul Islam, Tanvir Islam Topu of Computer Science and Engineering Department ( CSE) and Md. Abu Iftier & Tareq Hossain of Electrical and Electronics Engineering Department of Daffodil International University.

Daffodil International University always recognizes & recommends the talent and excellence. Specifically, it extends its hand to the individuals who have made a positive contribution to the prestige influence and reputation of the University and have exercised and continue to exercise strong positive activities for the advancement of their career.
They will be in VIT University, Indiafrom Feb to June 2017.Best of Luck to the team DIU for their International Exposure.
Caption: 5 Students pose for a photograph along with Prof. Dr. Yousuf M Islam, Honorable Vice Chancellor of Daffodil International University before their departure