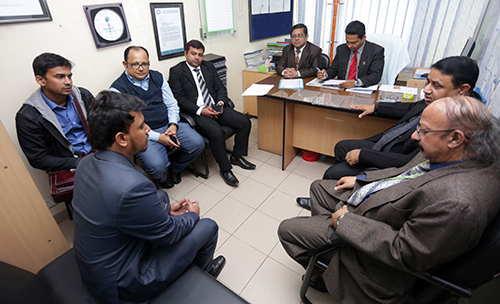 A sequence of conducting Interview for Spot Recruiting
A spot Interview Session under "On Campus Recruitment" Program was organized by the Department of Real Estate in association with Career Development Center (CDC) of Daffodil International University to recruit 40 fresher's for REBAT & REFIT Real Estate Company Ltd. The Spot Interview Session was conducted on 8th January 2017 at the Office of Real Estate Department of Daffodil International University. The session was exclusively arranged for the Graduate Students, DIU which would be very effective for the students those who are seeking for a better career.
Mr. Hasan Mahmud, Manager (Operation), Rahat &Rafit Real Estate Limited & Mr. Istiaq Ahmed, Assistant Manager of Lifestyle Consultant, Sanmar Interior &Architecture Limited conducted the interview.; Dr. M. Mizanur Rahman, Professor of BRE, Mr. Feroz Mahmud, Director of CDC; Mr. Sheikh Abdur Rahim, Head of Real Estate Department and Md. Shumsud Doha, Assistant Director, CDC were also present in the said Spot Recruitment Session. At the end of the event, they discussed the importance of Industry-Academia collaboration on a regular basis to enhance the employability skills of the fresh graduates.
Career Development Center (CDC) of Daffodil International University will continue to drive for the effective Industry-Academia partnership to bring impart the correct set of skills to the students of DIU and make them industry ready through well designed training and development programs.