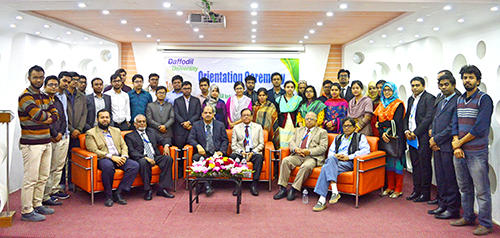 Prof. Dr. Yousuf M Islam, Honorable Vice Chancellor along with other distinguished high officials and newly appointed teachers in a photo session att he orentation program.
The orientation programme for the newly joined faculty members of Daffodil International University (DIU) was held today on January 02, 2017 at Banquet Hall of the university.
Presided over by Professor Dr. Yousuf M islam, Vice Chancellor, Daffodil International University, the function was also addressed by Professor Dr. S.M. Mahbub-Ul-Haque Majumder, Acting Pro-Vice Chancellor, Professor Dr. Ahmed Islam Mostafa, Dean, Faculty of Allied Health Sciences, Prof. Aa m m Hamidur Rahman, Dean, Faculty of Humanities and Social Science, Professor Dr. M Shamsul Alam, Dean, Faculty of Engineering of DIU.
Mr. Mohamed Emran Hossain, Acting Registrar &Director (Administration) of DIU conducted the orientation programme. A total of 44 full time faculty members joined in different faculties of the university in this Spring Semester 2017.
While addressing Professor Dr. Yousuf M Islam, Vice Chancellor of DIU welcomed the newly joined faculty members and to make the best use of the facilities and resources provided by the university and build the students to fit for face the challenges of the 21st century. He also mentioned some objectives like introducing key personnel of DIU, its facilities, operation, activities, ICT tools for instructions and other activities, DIU culture and lifestyle, professional development, Universal Human Values and Professional Ethics and so on.
He also urged that as a teacher of DIU they must give out course outlines, finish prescribed courses, assignments, presentations and exams and submit grades in time. Also take part actively in supervising projects, theses and motivate students for rules, regulations and discipline.