English literary Club (ELC) of Daffodil International University has successfully arranged its second weekend film festival in a grand scale on 18 and 20 October, 2011 in DIU auditorium. The Head of English Department Dr. Binoy Barman presided over the meeting and well known documentary film maker Yasmine Kabir was the Chief Guest. The main attractions of the show were Yasmin Kabir's award winning documentaries - 'My Migrant Soul (2000)' 'A Certain Liberation (2003)', 'The Last Rites (2008)'.And after every Documentary Yasmine Kabir made open discussion or question-answer session with the students and audience. And a very good number of Questions and opinion arises from the audience and faculty members and she also answer her own thoughts, which made a very effective interaction between maker and audience.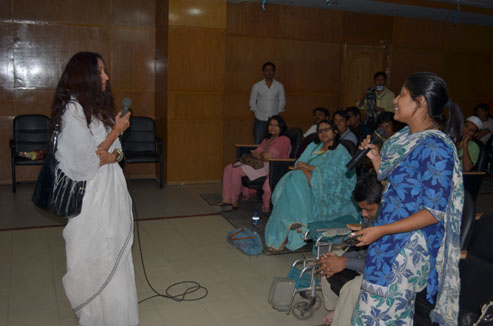 Country's renowned Short Film Maker Yeasmin Kabir answering questions of the participants at the film show
Students and Faculty members were present in big number. The staff and students were impressed very much by the films screened in the festival. More then 150 students participated in the show. The through lively question answering session among the students, faculties and the honorable guest made the function a huge success. Before Conclusion Yasmine Kabir urged in her speech to ELC to keep continue this film screening show and promises ELC that she will attend again in future if ELC invite her. This Program was concluded by handed over "special honor" crest to Yasmine Kabir through former dean of Humanities and social science faculty Prof. Dr. Shusil Kumar Das and the vote of thanks by the ELC Moderator Ms. Umme Kulsum. This Program was successfully arranged by ELC members – Syed Raihan, Eiten Haque, Irin Nippu, Sunjida Iffat, Sameer Shuvro, Masud Mithu, Rafat and so on.
The response of the students and faculty members was very much inspiring for the club to do screening of meaningful films and documentaries in future. Participants considered it as a movement in the university to sow a seed of good cinema environment in the university.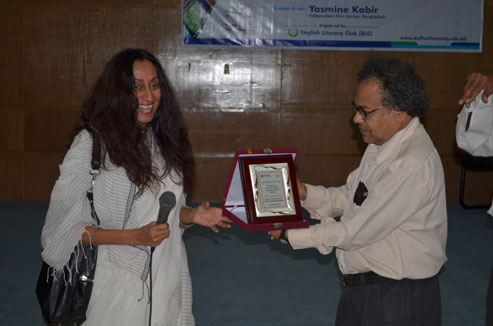 Professor Dr. Shusil Kumar Das handing over a crest to country's renowned Short Film Maker Yeasmin Kabir
Yasmine Kabir is an independent Film maker of Bangladesh. She is founding member of NARIKA, a non-profit south-Asian women's organization in San Francisco working in the area of domestic violence. She is an important film maker of this time, because we get the opportunity to take a look around on our society through her eye as well as camera. She portrayed the reality in a simple but impressive way. Her films have got many prizes and enormous applause from home and aboard. To watch Yasmine Kabir films is to be profoundly alone: alone with herself, alone in the process of discovering new things about oneself.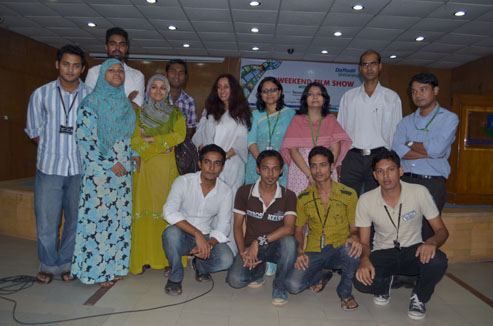 Faculty and Members of ELC of Daffodil International University with country;s renowned Short Film maker Yeasmin Kabir in a photo session
Yasmin Kabir's 'My Migrant Soul (2000)' the film highlights the plight of the migrant worker in these times. the story of one person to illustrate that of countless others who have suffered at the hands of those who have stood to gain profit by bartering their lives. 'A Certain Liberation (2003)' the maker shows us hoe Gurudasi Mondol, in her madness, found a strategy for survival and kept alive the spirit of the Liberation War. The last one was 'The Last Rites (2008).This silent film is an allegorical portrayal of the agony of hard labor in depicts the ship breaking yards of Chittagong, Bangladesh. These documentaries get the proper justification with the hand of Yasmin Kabir.
True Art can indoctrinate sensitivity and values in young minds. Cinema is modern art form which can influence and reach the message. Keeping this sprit in mind, this time ELC organized the film Show not only to spread good cinema cultures in university but also to introduce the emerging power of Bangladeshi documentary. So that students can get the opportunity to learn and develop the aesthetic appreciation of our own visual media. ELC has always tried to bring out new hopes and that films are not only intended for entertainment, good films from the international cinema can enrich young minds with values and enlightenment. The club urged the students to make a habit of viewing good cinema. In addition to normal academic activities it will be a privilege to have good cinema screenings in the varsity campus; it will give cultural exposure to the students. This attempt of ELC will open a new window for students to develop their taste towards good cinema, music and other arts to enable them to become good citizens. The President of the club said that the club is very thankful to the concern authority for giving permission to start film screenings.