Book Reading Competition launched at DIU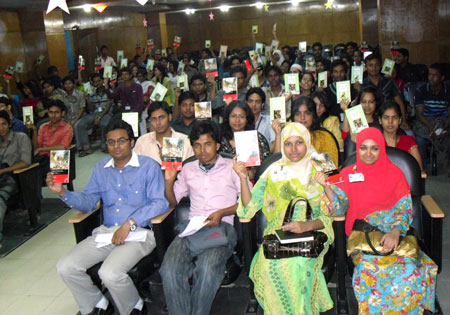 To enhance English language proficiency of the students of Daffodil International University the department of English organized a book reading competition for the students.
The Book Reading Competition was launched at Daffodil International University on 30 April 2011 jointly organized by Daffodil International University (DIU) and British Council. The launching ceremony was addressed by Ms. Sarwat Masuda Reza, Resource Centre Manager, British Council,Dhaka, Dr. Md. Fokhray Hossain, Registrar, DIU, Dr. Binoy Barman, Head of English Department and Syed Mizanur Rahman, Coordinator of Career Development Centre (CDC).
One hundred registered students received their books from the British Council after the launching. An assessment will be held after three months. The successful students will be given certificates from the British Council. Top scorers can avail themselves of other facilities like free English language training and conference participation abroad.
The competition is divided into three phases. After successful completion of the first phase, the students will enter the second and third phases subsequently.